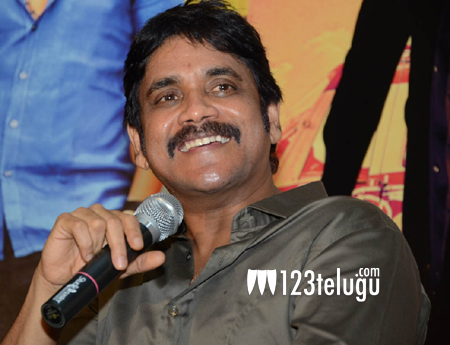 'King' Akkineni Nagarjuna is all set to hit the screen with the commercial mass entertainer, 'Bhai'. The movie is getting ready to release on the 25th of this month and Nagarjuna has produced this movie on Annapurna Studios banner, in association with Reliance Entertainments.
The handsome actor interacted with media members today, to speak about the film and about the changes corporate firms are bringing about in Tollywood. Let us see what Nagarjuna had to say.
Q. What can you tell us about 'Bhai' ?
A. 'Bhai' is a 100% entertainment based film. It is an all round entertainer with lot of commercial elements. There are good songs, good action sequences and lots of light hearted entertainment in the film. Entertainment quotient in the second half of the film keeps getting better towards the end.
Q. Are you essaying multiple roles in the film?
A. No. But I will be seen in multiple getups in the film. Initially, I will be seen as Hong Kong based Don. After that, I will be seen as a Hyderabadi Dada based in the old city. I will then be seen as a wedding planner in the final stages.
Q. Is there any similarity with 'King'?
A. No, not at all. The only similarity is that there are lots of comedians and villains in this film as well.
Q. Why did you choose 'Bhai' as the title for this film?
A. Veerabhadram came with the title 'Bhai' when he came to narrate the script. The title is apt for the movie. On one hand, it signifies a mafia element and it is also applicable for the sister sentiment in the film.
Q. How is Veerabhadram as a director?
A. I had a good experience with Veerabhadram. He is a director who has a good grip on the entertainment aspect of things. He took good care of things.
Q. There are a lot of punch dialogues in 'Bhai', more than in any of your other films. Any particular reason?
A. Punch dialogues are being appreciated by youngsters these days and fans love them. These punch dialogues and one liners were a part of the script that was narrated to me. So we went ahead with that.
Q. You have succeeded with mass comedy entertainers like 'Hello Brother' and 'Allari Alludu'. Why have you not done more films in this genre?
A. I agree. It has been a while since I attempted mass comedy entertainers and that is one of the prime reasons behind my decision to act in this film. As for the gap, I just happened to get some very good and fresh subjects like 'Annammayya', 'Shirdi Sai', 'Rajanna' etc. So I went with the flow.
Q. You have tied up with Reliance for two films. Will this deal continue?
A. As of now, it is a two film deal. We need to like their methods and they need to feel comfortable with our practices. At present, we are very happy with the relationship. Let us see how it goes. They have just found the route to success with 'Atharintiki Daaredhi', so it is a good sign. (Smiles).
Q. The Telugu Film Industry runs largely on informal agreements and trust. The entry of corporate firms will change things. Do you welcome this?
A. Oh yes. The informal ways of doing business are not sustainable anymore. We need to be disciplined and have more formal working practices. Agreements need to be perfect and commitments must be honoured. So yes, it is a welcome change. If you notice, Bollywood films started crossing the 100 Crore mark only after the entry of corporate firms. They have deep pockets and networks and marketing becomes a lot easier when a corporate firm is behind you.
Q. But corporate firms don't seem to be keen about small films at all. Is this good?
A. "Emandi, idivaraku mee inti daggara kirana shop lo konevaaru. Ippudu malls ki velli konatam ledha? Movies kuda anthe" (Smiles) . Corporate firms may concentrate on big films initially and that is a good thing. Costs will come down and revenue potential increases. But after they find success, corporate firms do encourage small films. If you notice, most of the small films that are being made in Bollywood today have the backing of corporate firms. Something similar is going to happen in Tollywood as well.
Q. Is 'Manam' based on 'Back to the Future' ?
A. There is no science fiction angle to our film. We do not want that. It is a nice, fun film.
Q. How is ANR garu doing?
A. Dad is fine. He is recovering from the operation and he should be home soon. He has about two or three days of shoot left for 'Manam' and he is quite excited about completing this film. Shooting of the movie will be over by December and post – production work will go on for some time.
Q. You seem to have spent a lot of money on 'Bhai'..
A. (Smiles) Yes, we wanted the film to have a grand and lavish feel. We shot the film in beautiful overseas locations like Slovenia etc. The frame will look quite rich in this film.
Q, What can you tell us about Richa Gangopdhyay's role in the film?
A. She is a good actress and her role in this film is quite entertaining. She has done a good job in the songs and she will be an asset for this film.

Q. At this age, you have danced vigorously for DSP's tunes..
A. (Laughs) DSP's tunes will make even a 80 year old guy dance. His tunes have that energy. He has given superb music for 'King' and 'Dhamarukam' and the audio of this movie has become quite popular too.

Q. What can fans expect from this film?
A. Fans love commercial elements like punch dialogues, good songs and action sequences. This film will have all those things. I would also like to thank my fans for maintaining an official database for me and my family. It has completed 10 years, as of today. They have done a selfless job, without asking for anything in return.
With that, we wrapped up our interview of Nagarjuna. Let us wish this handsome hero the very best for 'Bhai'

Interviewed by Mahesh S Koneru

CLICK HERE FOR TELUGU INTERVIEW
Articles that might interest you:
Ad : Teluguruchi - Learn.. Cook.. Enjoy the Tasty food