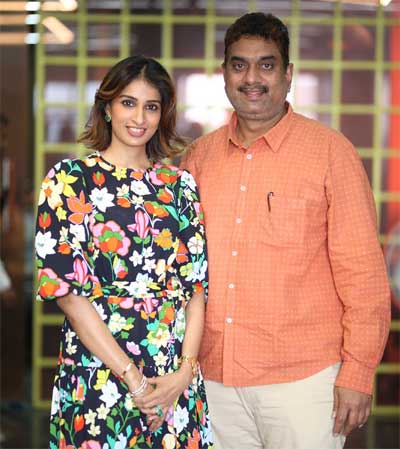 With Mangalavaaram, Swathi Reddy Gunupati, the daughter of the famous industrialist Nimmagadda Prasad, is venturing into the film industry as a producer. Swathi Reddy and Suresh Varma of Mudra Media Works produced the film along with A Creative Works of Ajay Bhupathi. Payal Rajput played the lead role. Ajmal Ameer, Nandita Swetha, Divya Pillai, Ravindra Vijay, Ajay Ghosh, and others played vital roles. Ahead of the release, producers Swathi and Suresh Varma interacted with the media, and here is the transcript.
Swathi Reddy:
Despite your family being in the industry for 30 years, it took so long for you to enter. What's the reason behind the delay?
I don't think there is any delay. I don't think there could be perfect timing than this. I am a movie buff, and I have a curiosity about filmmaking. When I joined Maa TV, I learned so many things from Suresh Varma Garu. I told him that I wanted to produce a film. We thought of producing a film together. The output of Mangalavaaram exceeded our expectations.
Could you tell us about your bonding with Allu Arjun?
Allu Arjun and I were friends even before I joined Maa TV. Our families share a good rapport. I will tell you a funny story. When I was in college, my HOD put forth a condition that Allu Arjun should be the special guest for an event. I asked Arvind uncle. Bunny came to the function, and we became close friends from then. Also, Sneha Reddy and I are good friends. My husband Pranav and Sneha are schoolmates.
Making a dark thriller is more risky than doing a commercial flick or a love story. What's your take on this?
We didn't think of making a film in this genre. I watch comedy films. I don't watch thrillers much. When Ajay Bhupathi Garu narrated me the script, I thought it would be good if we gave it a shot. I liked the message that Mangalavaaram contains. The film has all the elements like music, emotions, and message.
You said the budget was overshot. Didn't you feel it was risky?
The budget exceeded as the film's scale increased. We thought investing additional money would bring Ajay Bhupathi's vision onto the screen. We tried something different rather than doing a routine film. Of late, audiences are watching different genre films and stories, and we are happy about it. We didn't compromise on music and artists.
Suresh Varma:
Why Mangalavaaaram? Did you come across any other scripts before?
We heard two to three stories before Mangalavaaram. During RX100 time, Ajay Bhupathi narrated me the story of Mangalavaaram, which excited me instantly. Ajay wanted to do the film under his banner. I have suggested a few producers about the script. Then, I told Swathi to listen to the story. The output of Mangalavaaram exceeded our expectations.
Making a dark thriller is more risky than doing a commercial flick or a love story. What's your take on this?'
Despite being a dar thriller, Mangalavaaram has all the emotions. We never wanted to make a regular film, which is why we produced Mangalavaaran. Every character has its importance.
Chiranjeevi Garu launched your trailer and said great things about you. How did you feel?
I am a huge fan of Chiranjeevi Garu. During my childhood, it was a dream to see him closer. Now, Chiranjeevi Garu himself has tweeted about our film, and I can't forget this moment in my life.
Will you continue producing films irrespective of the results?
Our boss and Swathi father, Nimmagadda Prasad Garu, taught us how to enjoy the working process, keeping aside success and failures. We enjoyed working for Mangalavaaram. Even in Maa TV, we enjoyed working. We will make sure our efforts are flawless, irrespective of the results.
Articles that might interest you:
Ad : Teluguruchi - Learn.. Cook.. Enjoy the Tasty food