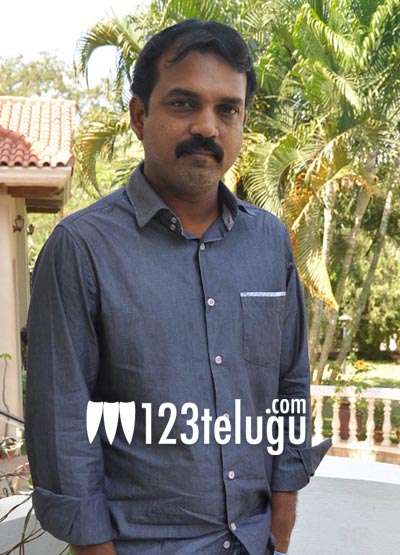 Koratala Shiva is all set to make his formal debut as a director with the film 'Mirchi'. The movie is getting ready to hit the screens on Feb 8th and Shiva interacted with members of the press briefly today. He spoke about his inspirations, about working with Prabhas and about the film 'Mirchi'. Read on to see what he had to say.
Q. What are your expectations from the film 'Mirchi'?
A. "Maa mirchi manchi ghaatuga untundhi". The film will show Prabhas in a new way and the character is a perfect fit for Prabhas. It is a tailor made role for him and fans will surely love our film.
Q. You are known for your punch dialogues. Did you write any special ones for Mirchi?
A. I am someone who believes that punch dialogues should come naturally from the story. I don't write them artificially. In 'Mirchi', that is what I have done and because of the natural emotions in the story, I have managed to pen some entertaining dialogues for the film.
Q. How did your journey start in this industry?
A. I started working under Posani Krishna Murali, who also happens to be a relative of mine. I started my career with 'Bhadra' and I have been fortunate enough to get some pretty good projects so far. After I completed my B.Tech, I learnt the ropes of story writing and script writing from Posani.
Q. Who do you look up to as a source of inspiration?
A. I really admire Mani Ratnam's work as a director and I like his style of dealing with the emotional aspects of a story. I also am greatly inspired by Sri Sri and his Mahaprasthanam.
Q. How was it to work with Prabhas?
A. Prabhas is an absolute joy to work with. He is a Darling. He has absolutely no ego and he never treated me like a debut director. He gave me a lot of respect and co-operated completely. There were times when I asked him to perform for some very tough shots, but he never ever said no.  Prabhas is a passionate actor and I loved working with him.
Q. What do you do in your free time?
A. I read a lot of books. It is my favourite way to spend free time.
Q. Do you think it is mandatory for writers to read a lot?
A. More than just reading, I think writers should go out and see the world. They should explore new cultures and see different people. Only when you go out and see the world will you be able to appreciate the various shades people have.
Q. What kind of films do you enjoy?
A. I enjoy films which have a lot of emotional value. Films should be able to draw people in emotionally. If I like a scene in a movie where the emotional levels reach a peak, I involuntarily whistle..I am that kind of a viewer. (smiles)
Q. Are you happy with the response the music has been getting?
A. Yes. The audio has become a big hit and I am very happy with DSP's work.
Q. What are your future projects?
A. I am currently working on a story. I will decide upon my future course of action after Mirchi's release.
Q. What can viewers expect from Mirchi?
A. The film will be a stylish entertainer with good emotions. The story is paramount to the movie and all characters have good importance. Basically, after walking out of the theater, you will remember the characters by their names.
With that, we wrapped up our conversation with this soft spoken director as he had to rush off for an appointment with a Guru of Ramakrishna Matam. Let us wish Koratala Shiva the very best for his debut flick 'Mirchi'
Interviewed by Mahesh S Koneru
Click Here For Telugu Interview
Articles that might interest you:
Ad : Teluguruchi - Learn.. Cook.. Enjoy the Tasty food