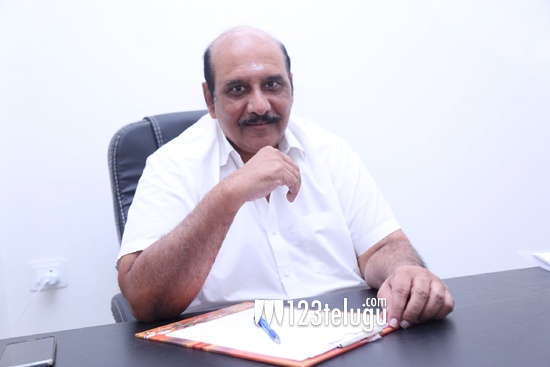 Malli Pelli, the upcoming romantic entertainer featuring the rumored lovebirds Naresh and Pavithra Lokesh, is all set to hit silver screens on May 26. Malli Pelli marks Naresh's golden jubilee film, and he has produced this milestone project under Vijaya Krishna Movies banner. The film is directed by veteran producer- director MS Raju. Malli Pelli has been creating a lot of buzz for the past few days with its striking promos. Director MS Raju has interacted with the media and opened up about the movie in detail. Here are the excerpts:
How has been your journey with Malli Pelli?
Ever since we released Naresh-Pavithra's kissing glimpse on December 30 last year, there has been a lot of buzz around their personal lives. It definitely helped our film garner attention. And then the teaser and trailer have made Malli Pelli a much-talked-about film. However, I assure that Malli Pelli will not be a sneak peek into anyone's personal life. I will not cheat the audience when they watch the movie in theaters. Audiences will know whether Malli Pelli is a story written by me or it belongs to Naresh and Pavithra when they watch the movie.
How do you define Malli Pelli?
Even I think about it all the time. Even I am not sure if I should call Malli Pelli a multi-starrer or family entertainer. It's a mature love story. I have put in a lot of hard work for this movie and made it based on Naresh's 50-year career on a banner named after Krishna and Vijaya Nirmala garu. Malli Pelli has a few sensational elements.
Did you write Malli Pelli's script keeping Naresh and Pavithra in mind?
Even when I was planning Okkadu, I never had Mahesh Babu in mind during the scripting. It was only after the completion of the script work that i thought Mahesh would suit the role perfectly. I have applied the same for Malli Pelli too.
How much of Malli Pelli's story is fictitious?
The teaser and trailer give a clear hint about how much of the story will be fictitious. You will have a clear idea about those fictional elements once you watch the movie.
Do you think Malli Pelli will end up being a high profile controversial movie?
Naresh is a Telugu actor where as Pavithra Lokesh is a Kannada actress. Both are in there middle age. Naturally, there will be a lot of chatter when rumors regarding their marriage are afloat. Today's generation aspires to live independently. Malli Pelli will cater to that generation as they will be able to connect to the story. You will find some unexpected story elements in the movie. They will take the audience to a new world.
How are the performances given by Naresh and Pavithra?
They both are great actors. I could manage to extract 50 percent of their acting potential in Malli Pelli. Naresh is usually a jovial person on the set. But once the camera rolls, he is a totally different person. We all clapped for his performance in the emotional scenes while shooting. He was very patient whenever I used to ask for a retake.
Do you expect Malli Pelli to be a sensational film?
In the olden days, elders used to get their children married without them even seeing each other. Things were improved later and marriages were finalized after the groom and the bride saw each other's photographs. Now, everything happens via WhatsApp messages. Situations and mindsets change with time. My film reflects the same. Malli Pelli conveys the message that people should live their lives on their own terms, but it never crosses the boundaries.
You have been making some trendy movies of late?
Even Okkadu and Nuvvosthanante were quite trendy. So was Dirty Hari. Actually, I had approach a young director for dirty Hari, but he refused the offer as the content was quite bold. That's when I decided to direct the movie. I became a director to show something new to the audience. I would have sat at home otherwise.
What was the idea behind using Krishna's old movie's title 'Malli Pelli'?
I didn't know it was Krishna gari movie title until Naresh told me. We felt the title was apt for our story and used it without any second thoughts.
How honest is Malli Pelli?
We honestly portrayed loneliness in the movie. In the past, some of Krishna and Vijaya Nirmala gari movies were very bold. However, Malli Pelli will not be as bold as their movies.
Articles that might interest you:
Ad : Teluguruchi - Learn.. Cook.. Enjoy the Tasty food