Shri. B. Nagi Reddi Memorial Award
( A part event of Shri. B. Nagi Reddi Centennial Celebrations )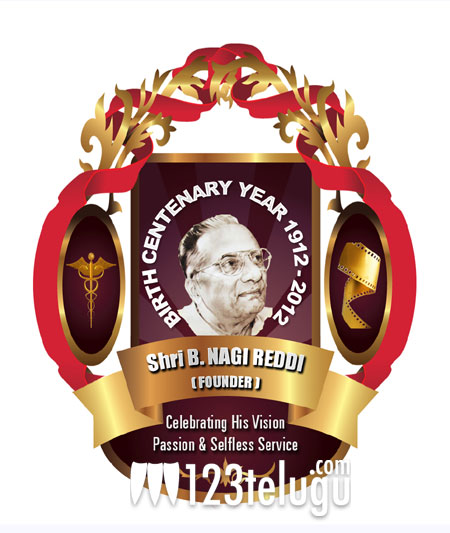 Vijaya Medical & Educational Trust the trust started by Shri B. Nagi Reddi and which runs Vijaya Group of Hospitals and Institution celebrates centenary birth year of a pioneer and doyen of Indian Film Industry – Shri. B. Nagi Reddi. The centennial year affords the Vijaya Group an opportunity to share about Shri. B. Nagi Reddi's contribution to the society and how he has touched common man in various ways. How a man from humble background could conquer his dreams despite the trials and turbulence he faced. He is a pioneer, in whichever industry he stepped out. Be it, printing, film production and, health sector and publishing Shri. B. Nagi Reddi is a pioneer in his own right.
A centenary celebration organization committee is headed by Shri. B. Venugopal Reddy and Shri B. Venkatarama Reddi.
As part of the contribution to the film industry and to celebrate his service to this industry, the trust has decided to institute an award for the telugu and tamil films. Since Vijaya Productions, the movie production company founded by Shri B. Nagi Reddi is famous for producing movies which are wholesome family entertainer, the trust has decided to institute an award in this category and give to production houses which have produced the movies year after year starting 2012. Since majority of Vijaya productions were tamil-telugu bilingual and Shri B. Nagi Reddi held a pole position here for a period spanning many decades, the Trust has decided to institute an award in these languages.
The films certified and released in the calendar year 2011 would be shortlisted and would be selected by a committee comprising eminent actors and directors from the Tamil and Telugu film industry members.
Production Houses should send in the nominations to be eligible for short listing. The announcement of this would be on 5th January 2012 and the nominations would be accepted from that day till February 15th 2012.
A prize money of Rs 1.5 Lakhs would be given along with a citation to the winners.
Award for Tamil films would be given by May 1st 2012 in Chennai and for that of Telugu would be by April 7th 2012 at Hyderabad.
This award ceremony would be a annual affair and the Production Houses would awarded annually for their films.
People from the industry would be invited along with the people who had worked in Vijaya Prodcutions projects.
About Shri. B. Nagi Reddi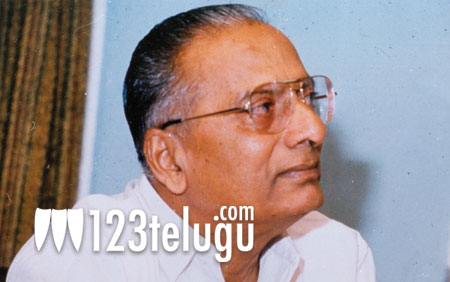 BommiReddi Nagi Reddi (2 December 1912 – 25 February 2004) hails from Pottipadu Village in the Kadapa District of Andhra Pradesh. He set up Vijaya Vauhini Studios in Chennai, which was then Asia's biggest film studio and produced movies under Vijaya Production banner with his close friend Shri. Chakkarapani. Telugu, Tamil, Kannada, Malayalam and Hindi, Some of the movies produced by Nagi Reddi include Patala Bhairavi (1951), Missamma (1955), Maya Bazaar (1957), Enga Veetu Pilla Nam Nadu, Savucaru ( 1950), Julie (1975), and Swarg Narak (1978).
Nagi Reddi founded the Vijaya Medical & Educational Trust in 1972.The trust runs the Vijaya Hospital (1972), Vijaya Health Center (1987) and Vijaya Heart Foundation (1996).
Nagi Reddi started the Andhra Jyothi newspaper in 1945. He also established the children's magazine Chandamama along with his friend Shri. Chakkarabani in July 1947. The magazine was eventually printed in nearly a dozen different languages.
Nagi Reddi headed the South Indian Film Chamber of Commerce four times and the All-India Film Sammelan for two terms.
Nagi Reddi served as Chairman of the Board of Trustees of Tirumala Tirupati Devasthanams between 1980 and 1983, and is credited for building the Vaikuntam Queue Complex that now serves to regulate pilgrims for darshan in the Tirumala Venkateswara Temple.
He was instrumental in installing Sanku & Chakkram on the hillock of Tirumala, which everybody could see while travelling up hill.
For his contributions to Indian, Telugu, and Tamil cinema, Nagi Reddi received various awards:
• The Government of India awarded him the prestigious Dada Saheb Phalke Award in 1987.
• The Government of Andhra Pradesh awarded him the Raghupathy Venkaiah award in 1987.
• The Government of Tamil Nadu awarded him the Kalaimamani Award in 1972.
• He was awarded an honorary doctorate by Srikrishnadevaraya University and Sri Venkateswara University.
• Shri. B. Nagi Reddi was the president of the Master Printers Association of India twice.
• The Government of Andhra Pradesh has institute in Shri. B. Nagi Reddi's name an award in the Nandi Awards.
• In 1981 he was conferred "Sake of Honour" award by the Rotary Club of Madras.
Articles that might interest you:
Ad : Teluguruchi - Learn.. Cook.. Enjoy the Tasty food