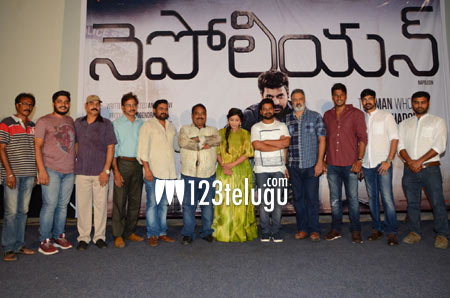 'Napolean', directed by Anand Ravi, is being made by Acharya Creations and Anand Ravi Concepts. Bogendra Gupta Mudupalli is the producer. The film's Trailer was launched on the hands of actor Sundeep Kishan and producer KL Damodar Prasad on Wednesday morning at an event held at Prasad Labs, Hyderabad.
On the occasion, Bogendra Gupta's NGO, Triple S, presented a cheque of Rs. 25,000 to senior PRO and producer BA Raju and senior journalist Pasupaleti Ramarao towards the medical expenses of a journalist named Varaprasad.
KL Damodar Prasad said, "I have known Anand Ravi since 2011. The day I watched his movie 'Parents', I knew he will surely become a very good director. He went on to write a very good story for 'Prathinidhi'. When I came to know that he is playing the lead's role in 'Napolean', I wondered as to why he is keen on acting. But when I watched the Teaser and the Trailer, I came to the conclusion that only he would have been apt for the role. In these days, it's commonplace to see people turning into producers just because they have money. But Gupta garu stepped into film production only after learning about it. 'Napolean' is a technically fine film. The actors seem to have done a very good job. Anand Ravi is coming across as a mature actor. I am sure the audience are going to love the movie."
Sundeep Kishan said, "Ravi anna (Anand Ravi) and I were born on the same date. I have known him for 12 years. He has always stood by me through thick and thin. I was to do 'Prathinidhi' and this film as well, but I couldn't. I want to do at least his next movie. Ravi anna's stories are always good. 'Napolean', I think, will be a cut above the rest."
Bogendra Gupta said, "I used to be in trading business. This is the first time that I am working with a team. This film wouldn't have been there but for Anand Ravi."
Anand Ravi said, "I have told this story to a lot of people. As soon as I said that the hero loses his shadow, they asked me if it's a short film. When I would tell them I am the hero, they would show surprise. They would also ask as to who is the producer. 'Napolean' will answer all their questions. Although it's a thriller, the concept is new. I have written into the film all that my audience expect from me. Everyone will connect with the movie."
BA Raju said, "The film has always had hype around it. The Trailer is very distinct. The film will surely be a big success."
The cinematographer Margal David said, "This is my first film as a cinematographer. I thank the director and the producer."
Music director Siddharth Sadashivuni said, "This is my first film. The concept of the hero losing his shadow will surely be liked by one and all."
Actress Komali said, "This is a suspense thriller movie. This will definitely impress the audience 110 per cent. This will surely engage them."
Lakshmi Bhupal said, "This will be found to be a refreshing film by the audience. I have no doubt that Anand Ravi is touching upon a socially relevant point in the movie just as he did in the case of 'Prathinidhi'. The producer is a friend of mind. Although I was scared before he jumped into production, I am happy that he completed the movie as per the planned budget."
Music-directed by Siddharth Sadasivuni, the film marks Anand Ravi's debut directorial (he has also penned the story and screenplay). The cinematography is by Margal David. Lyrics are by Balaji. Art direction is by Babjee. Produced by Bhogendra Gupta, 'Napolean' is from the stable of Acharya Creations and Anand Ravi Concepts.
Articles that might interest you:
Ad : Teluguruchi - Learn.. Cook.. Enjoy the Tasty food